Top Shop of Asia 2011 - Singapore Qualifier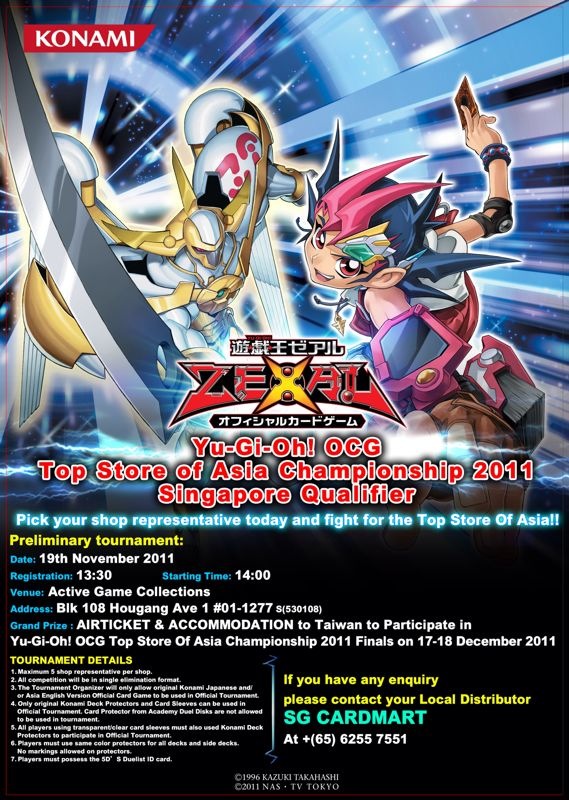 | | | |
| --- | --- | --- |
| Date | Venue | Registration Time |
| November 19 (Saturday) | Active Game Collections | 1330hrs - 1400hrs |
Note: Late comers will not be entertained
Event Info:
This is a new concept from Konami which aims to increase exposures of shops under their distributorship and also allow for these shops to build a better relationship with their players. These shops would select players to represent them either through mini tournaments which they hold or through personal recommendation. These players would then gather together and playoff in a national qualifier where the winning player would represent Singapore as well as the shop that recommended him in a Top Shop of Asia Championship finals in Taiwan. Winning players for the Championship finals as well as the shops that recommended them would receive grand prizes.
Note: Please do not pester shop owners to recommend you as the slots have already been taken.

Prizes
1st Place: Air Ticket & Accomodation to Taiwan for the player and participation in Yu-Gi-Oh@ OCG Top Shop of Asia Championship Finals on 17-18 December 2011
2nd Place: 1 Box of Extra Pack 4
3rd & 4th Place: 5 packs of Extra Pack 4
5th Place and above: 1 PHSW twin pack and Zexal dice
Entry Fee per player: $10
Door Gift for all participants: 1 Tournament Pack 3 and drink
Format
4 Round Swiss to choose the top 8 playersThe top 8 players will then have a play off in Single Elimination Format
Rules
1. Deck Construction Rules
Deck must be between 40 to 60 cards, inclusive.
Extra Deck, while optional, must be between 0 to 15 cards, inclusive.
Side Deck, while optional, must be between 0 to 15 cards, inclusive.
2. Time limit of each match: 45 mins
3. No Fake cards or Proxys allowed in the event.
4. 1st SEP 2011 OCG Ban and Restricted list used in Tournament.
5. 19th March 2011 Priority Ruling in effect.
6. Card Legality
Only legally distributed Japanese cards are legal for use in sanctioned tournaments in Asia (excluding Japan and South Korea), namely:
* Booster Pack
* Duelist Pack
* Extra Pack
* Gold Series
* Tournament Pack
* Premium Pack 5, 6, 7, 9, 10, 13
* Yu-Gi-Oh: Super Fusion! Bonds That Transcend Time Movie Pack
* Starter Deck / Structure Deck
* Video Game Promotional Cards
* World Ranking Promotional Cards
Asian English cards are legal.
The following are illegal (unless reprinted in at least one of the above*):
o Premium Pack 1, 2, 3, 4, 8, 11, 12
o Limited Edition Pack
o Duel Disk Promotional Cards
o Duel Terminal
o Anniversary Pack
o Shueisha Promotional Cards
o Weekly Jump
o V Jump
o Valuable Book
o Master Guide
o Video Game Guide
o Yu-Gi-Oh! Manga
o Yu-Gi-Oh! R Manga
o Yu-Gi-Oh! GX Manga
o Yu-Gi-Oh! 5D Manga
*If the card is reprinted in at least one of the legal sets, you may use any version of that card. For example, Brionac, Dragon of the Ice Barrier was reprinted in Gold Series 2009, hence you're allowed to use the Duel Terminal version of Brionac.
7. Any players who found cheating or changing of cards during in the tournament will be disqualified immediately.
8. All players are to submit their decklist to register for the tournament prior to the event and ensure that their decks fulfill the rulings above. Players with no decklists prepared or with decklists that do not follow the rulings will not be allowed to participate. Link to download decklist as follows: http://dl.dropbox.com/u/10998428/DECK%20LIST%20TOP%20SHOP.xls
* Not having a printer is not an excuse. I will be there early that day to give out deck lists, come early to fill up if you have this requirement*
**All players are to note that submission of decklists does not mean that responsibility of having a legal deck or not goes to the judges. Players not complying to the deck legality as per above rulings may be disqualified even if already mid game.
9. Only original Konami Deck Protectors and Card Sleeves can be used. Card Protector from Academy Duel Disks are not allowed to be used in tournament.[no prisma sleeves or deck pro from starlight road dueldisk eg: blue and gold are NOT allowed to use]
10. Double layer deck protectors are allowed, provided the outer layer must be a transparent deck protector. Players must use same color protectors for all decks and side decks. No markings allowed on protectors
11. Judges have rights to disqualify duelist who misconduct or violate rules
12. Judges decision is final
More rules and regulation can be found in http://www.konami-asia.com/th/yugi5d/en/event/dk_rule.html
13. Players who join must be a Singapore Citizen or Singapore PR
14. Players are reminded to bring along the following
. Pen
. Paper
. Playmat
. Duelist ID card
- Decklist
. No electronic devices allowed, including calculator
15. ALL THE PLAYERS MUST HAVE DUELIST ID TO JOIN, CLICK HERE TO APPLY
http://www.konami-asia.com/th/yugi5d/en/event/dk_duelist_id_apply.html
Current list of players signed up by shops are as follows
Asia Cards Shop:
Jeff
Colin Ang
Sin Long
Audio Ventura:
Benjamin Tan
Jeryl Ng
Jess
TTZ Trading:
Vishal Dharnshan
Lee Yong Hwee
Yong We Ann
Full-Yen Trading:
Sebastian Tan
To Chuan Zhi
Chen Zexuan
Excel-CS:
Michael Santoso
Clarence Foo
Tan Wan Xin
Active Game Collections:
Cassandra Ang
Lauren Tan
Kaven Sue
Thousand Taste:
Louis Lim
Lim Poh Choon
Yu Bixuan
Rowell Home Entertainment:
Ernest Sim
Lim Guan Jie
Calvin Ang