Worlds Championship Qualifiers 2012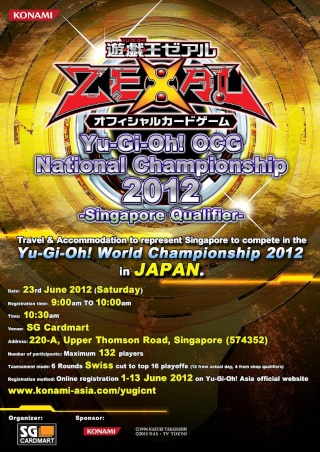 Venue:
SG CardMart
Date:
23rd June 2012
Registration:
0900hrs - 1000hrs (On-site registration will be open at 0950hrs)
Entry Fee:
$12.00
Note: Late comers will not be entertained
Free Entry Ticket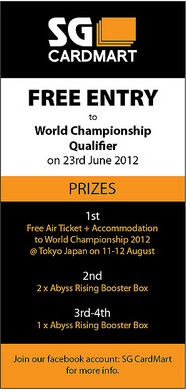 You can also receive a Free Entry Ticket when you purchase 1x box Duelist Edition 1/2 Display from the shops below:
Active Game Collections

Audio Ventura Trading

Carito Trading

Excel CS

FunZ Center

Full Yen Trading

Kit's Shop

TTZ Trading

Thousand Taste Trading

(Limited Tickets!!!)
Prizes
Winner:
Free Ticket & Accommodation to World Championship 2012 @ Tokyo Japan on 11 - 12 August
2nd place:
2x Abyss Rising Booster Boxes
3rd & 4th place:
1x Abyss Rising Booster Box
Note that the Abyss Rising will only be released on 21 July so those prizes can only be collected after that.
Registration
- Online registration will be open from 1 June 2012 to 13 June 2012 and will be restricted to 128 players. You are requested to print out the deck list which will be generated after registration.
- If you are unable to print the deck list, you may collect it from the registration counter on the actual day.
- In the event that there are spots which are open (Due to registered players who do not turn up on time), these open spots will be open to on-site registration for players.
- Note that however, if we somehow do not receive your deck list from Konami and you do not have the print out to prove your entry, you will be required to register on-site which will be subjected to availability.
Format for Singapore Qualifiers
6 round swiss, cut to top 10
Top 10 players will be joined by 6 seeded players from 6 mini qualifier events, info below
Note that all seeded players are required to fill in the deck list from the link below and email to DSummon@me.com by 13 June 2012.
http://dl.dropbox.com/u/10998428/DECK_LIST.xls
World Champion 2012 Mini-Qualifiers Info
Shop's address:
https://sg-ygo.forumotion.com/t7453-ranking-event-stores
| | | | |
| --- | --- | --- | --- |
| S/N | Venue | Date | Winner |
| 1 | Kit's Shop | 20 May 2012 | Poh Seng |
| 2 | Active Game Collections | 27 May 2012 | Tan Wan Xin |
| 3 | Delightful Times | 2 June 2012 | Wesley Seek |
| 4 | J-Cube | 3 June 2012 | Ryan Stark |
| 5 | TTZ Trading | 9 June 2012 | Shelton |
| 6 | Audio Ventura Trading | 10 June 2012 | Lauren |
Time of Event: Registration starts at 12pm, Tournament starts at 1pm
Registration fee: $10
Door Gift: 1x pack Duelist Edition 1 or 2
Format
Swiss followed by single elimination playoffs (Number of rounds decided by shop owner depending on number of participants)
Prizes for Mini-Qualifiers
Winner:
Free entry and seed status to top 16 at World Championship Qualifiers held on 23 June 2012
2nd place:
2x pack Duelist Edition 1 or 2
3rd & 4th place:
1x pack Duelist Edition 1 or 2
Rules
1. Deck Construction Rules
Deck must be between 40 to 60 cards, inclusive.
Extra Deck, while optional, must be between 0 to 15 cards, inclusive.
Side Deck, while optional, must be between 0 to 15 cards, inclusive.
2. Time limit of each match: 35 mins
3. No Fake cards or Proxys allowed in the event.
4. 1st MAR 2012 OCG Ban and Restricted list used in Tournament. Check the link below for detailed list.
http://www.konami-asia.com/th/yugi/event/forbidden.php?list=201203&lang=en
5. 19th March 2011 Priority Ruling in effect.
6. Card Legality
Only legally distributed Japanese cards are legal for use in sanctioned tournaments in Asia (excluding Japan and South Korea), namely:
* Booster Pack
* Duelist Edition
* Duelist Pack
* Extra Pack
* Gold Series
* Tournament Pack
* Premium Pack 5, 6, 7, 9, 10, 13, 14
* Yu-Gi-Oh: Super Fusion! Bonds That Transcend Time Movie Pack
* Starter Deck / Structure Deck
* Video Game Promotional Cards
* World Ranking Promotional Cards
* OCG Duel Terminal 1 & 2
* OCG Duelist Box 2012
Asian English cards are legal.
The following are illegal (unless reprinted in at least one of the above*):
o Premium Pack 1, 2, 3, 4, 8, 11, 12
o Limited Edition Pack
o Duel Disk Promotional Cards
o OCG Duel Terminal 3 and onwards
o Anniversary Pack
o Shueisha Promotional Cards
o Weekly Jump
o V Jump
o Valuable Book
o Master Guide
o Video Game Guide
o Yu-Gi-Oh! Manga
o Yu-Gi-Oh! R Manga
o Yu-Gi-Oh! GX Manga
o Yu-Gi-Oh! 5D Manga
o Yu-Gi-Oh! Zexal Manga
*If the card is reprinted in at least one of the legal sets, you may use any version of that card. For example, Jurrac Guaiba was reprinted in Tournament Pack 2011 Vol. 3, hence you're allowed to use the Duel Terminal version of Jurrac Guaiba.
**Even though SD23 - Roar of the Sea Emperor is released on 16 June, it will not be legal to be used in the World Championship Qualifiers 2012.
7. Any players who are found cheating or changing of cards during the tournament will be disqualified immediately.
8. All players are to submit their deck list online to register for the tournament prior to the event and ensure that their decks fulfill the rulings above.
*All players are to note that submission of decklists does not mean that responsibility of having a legal deck or not goes to the judges. Players not complying to the deck legality as per above rulings may be disqualified even if already mid game.
9. Only original Konami Deck Protectors can be used with the exception of deck protectors from Duel Disks or character deck protectors which are not allowed to be used in the tournament. [E.g. no Prisma or Starlight Road duel disk deck protectors]
10. Double layer deck protectors are allowed, provided the outer layer must be a transparent deck protector. Players must use same color protectors for their decks, extra deck and side deck. No markings are allowed on protectors.
11. Judges have the right to disqualify duelist who misconduct or violate rules.
12. Judges decision is final.
More rules and regulation can be found in http://www.konami-asia.com/th/yugi5d/en/event/dk_rule.html
13. Players who join must be a Singapore Citizen or Singapore PR.
14. Players are reminded to bring along the following
. Pen
. Paper
. Playmat
. Duelist ID card
- Decklist
. Calculator
*Players are reminded to bring either pen and paper or calculator to calculate life points.
15. ALL THE PLAYERS MUST HAVE DUELIST ID TO JOIN, CLICK HERE TO APPLY
http://www.konami-asia.com/th/yugi5d/en/event/dk_duelist_id_apply.html