Asia Championship 2012 Plus Singapore Qualifiers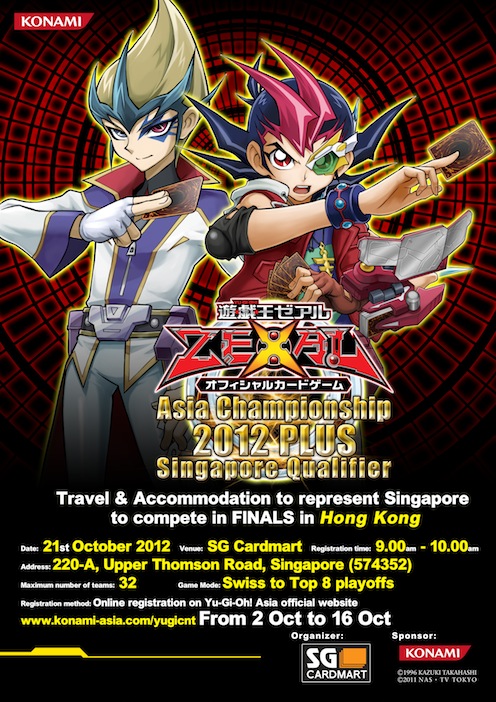 Venue:
SG CardMart
Date:
21st October 2012
Registration:
0900hrs - 1000hrs (Online registration between 2 to 16 October)
Entry Fee:
Purchase of 10x Duelist Pack Kaito @ $3.50ea or 10x Abyss Rising @ $3.00ea
Note: Late comers will not be entertained
Prizes
Winner:
Free Ticket & Accommodation to Asia Championships 2012 Plus @ Hong Kong (Date tbc)
2nd place:
3 Booster Boxes & 3 Structure Decks
3rd & 4th place:
3 Structure Decks
Registration
- Online registration will be open from 2 October 2012 to 16 October 2012 @ their website and will be restricted to 32 teams. You are requested to print out the deck list which will be generated after registration.
- As this is a team tournament, you will be required to submit all 3 decklists at time of registration
- If you are unable to print the deck list, you may collect it from the registration counter on the actual day.
- Note that however, if we somehow do not receive your deck list from Konami and you do not have the print out to prove your entry, you will be required to register on-site which will be subjected to availability.
EDIT: On-site registration is now
OPEN!
Fill up your team's decklists clearly using the template here and make sure you are on-time this Sunday. Spots are limited so be early!
Format for Singapore Qualifiers
4 round swiss, cut to top 8, followed by 1 round single-elimination to top 4
Top 4 teams will be joined by 4 seeded teams from 4 mini qualifier events, info below
Note that all seeded teams are required to fill to complete online registration to before the registration date ends (These 4 are counted outside of the 32 team restriction)
At time of registration on the qualifier day, the team of 3 members has to decide on a team name as well as the order of the players (Team leader, member A and member B). This cannot be changed throughout the tournament.
The team's win will be decided by 2 out of the 3 team members winning.
Note: For each team member, standard rulings of winning 2 out of 3 rounds apply.
-----------------------------------------------------------------------------------------------------------------------------------------------------------------------------
Asia Championships 2012 Plus Mini-Qualifiers Info
Shop's address:
https://sg-ygo.forumotion.com/t7453-ranking-event-stores
S/N
Venue
Date
Winner
1
Kit's Shop
15 Sep 2012
Team Koi:
Johann Loke
William Oh
Yu Bixuan
2
Excel CS @ J-Cube
29 Sep 2012
Team KingQueenJoker:
Cassandra Ang
Ho Shu Miao
Peh Junyong

3
Active Game Collections
6 Oct 2012
Team Waetoriya:
Nian Jie
Jie Lun
Daniel
4
Audio Ventura Trading
13 Oct 2012
]
Team Putra:
Alvin Putra
Sherwyn Lim
Keith Chen
Time of Event: Registration starts at 1.30pm, Tournament starts at 2pm
Registration fee: Purchase of 10x Duelist Pack Kaito @ $3.50ea (While stocks last) or 10x Abyss Rising @ $3.00ea
Format
Single Elimination
Prizes for Mini-Qualifiers
Winner:
Free entry and seed status to top 8 at Asia Championships 2012 Plus SG Qualifiers held on 21 October 2012
2nd place:
$30 Cash Voucher (Can't be exchanged for cash)
Qualifying team may change the order of the members in the team for the main event but not the members itself. Change in members will result in a forfeit of the team regardless of the reason. Decklists for qualifiying teams have to be submitted online before the closing date of 16 October. Failure to submit will be considered as the team wishing to forfeit their seeded status.
-----------------------------------------------------------------------------------------------------------------------------------------------------------------------------
Rules
1. Deck Construction Rules
Deck must be between 40 to 60 cards, inclusive.
Extra Deck, while optional, must be between 0 to 15 cards, inclusive.
Side Deck, while optional, must be between 0 to 15 cards, inclusive.
2. Time limit of each match: 40 mins
3. No Fake cards or Proxys allowed in the event.
4. 1st SEP 2012 OCG Ban and Restricted list used in Tournament. Check the link below for detailed list.
http://www.konami-asia.com/th/yugi/event/forbidden.php?list=201209&lang=en
5. 19th March 2011 Priority Ruling in effect.
6. Team Tournament specific Ruling - Team members must share the card pool and fulfill the Ban and Restricted list requirements within the team.
E.g.
Only 1 Monster Reborn to be shared among the team
Only 2 Summon Priest to be shared among the team
Only 3 Mystical Space Typhoon to be shared among the team
7. Card Legality
The following OCG card sets / promotional cards are legal:
* Booster Pack
* Duelist Edition
* Duelist Pack
* Extra Pack
* Gold Series
* Tournament Pack
* Premium Pack 5, 6, 7, 9, 10, 13, 14
* Yu-Gi-Oh: Super Fusion! Bonds That Transcend Time Movie Pack
* Starter Deck / Structure Deck
* Video Game Promotional Cards
* World Ranking Promotional Cards
* OCG Duel Terminal 1 & 2
* OCG Duelist Box 2012
* Premium Pack 1, 2, 3, 4, 8, 11, 12
* Limited Edition Pack
* Duel Disk Promotional Cards
* Anniversary Pack
* Shueisha Promotional Cards
* Weekly Jump
* V Jump
* Valuable Book
* Master Guide
* Video Game Guide
* Yu-Gi-Oh! Manga
* Yu-Gi-Oh! R Manga
* Yu-Gi-Oh! GX Manga
* Yu-Gi-Oh! 5D Manga
* Yu-Gi-Oh! Zexal Manga
Asian English cards are legal.
The following are illegal (unless reprinted in at least one of the above*):
o OCG Duel Terminal 3 and onwards
*If the card is reprinted in at least one of the legal sets, you may use any version of that card. For example, Jurrac Guaiba was reprinted in Tournament Pack 2011 Vol. 3, hence you're allowed to use the Duel Terminal version of Jurrac Guaiba.
**Even though Extra Pack 2012 is released on 13 October, it will not be legal to be used in the Asia Championship 2012 Plus SG Qualifiers. Duelist Pack - Kaito is legal.
8. Any players who are found cheating or changing of cards during the tournament will be disqualified immediately.
9. All players are to submit their deck list online to register for the tournament prior to the event and ensure that their decks fulfill the rulings above.
*All players are to note that submission of decklists does not mean that responsibility of having a legal deck or not goes to the judges. Players not complying to the deck legality as per above rulings may be disqualified even if already mid game.
10. Only original Konami Deck Protectors can be used with the exception of deck protectors from Duel Disks [E.g. no Prisma or Starlight Road duel disk deck protectors]
11. Double layer deck protectors are allowed, provided the outer layer must be a transparent deck protector. Players must use same color protectors for their decks, extra deck and side deck. No markings are allowed on protectors.
12. Judges have the right to disqualify duelist who misconduct or violate rules.
13. Judges decision is final.
More rules and regulation can be found in http://www.konami-asia.com/th/yugi5d/en/event/dk_rule.html
14. Players who join must be a Singapore Citizen or Singapore PR.
15. Players are reminded to bring along the following
. Pen
. Paper
. Playmat
. Duelist ID card
- Decklist
. Calculator
*Players are reminded to bring either pen and paper or calculator to calculate life points.
16. ALL THE PLAYERS MUST HAVE DUELIST ID TO JOIN, CLICK HERE TO APPLY
http://www.konami-asia.com/th/yugi5d/en/event/dk_duelist_id_apply.html